HCC's Chapter of Phi Theta Kappa recognized for Honors in Action project
Sep 29, 2021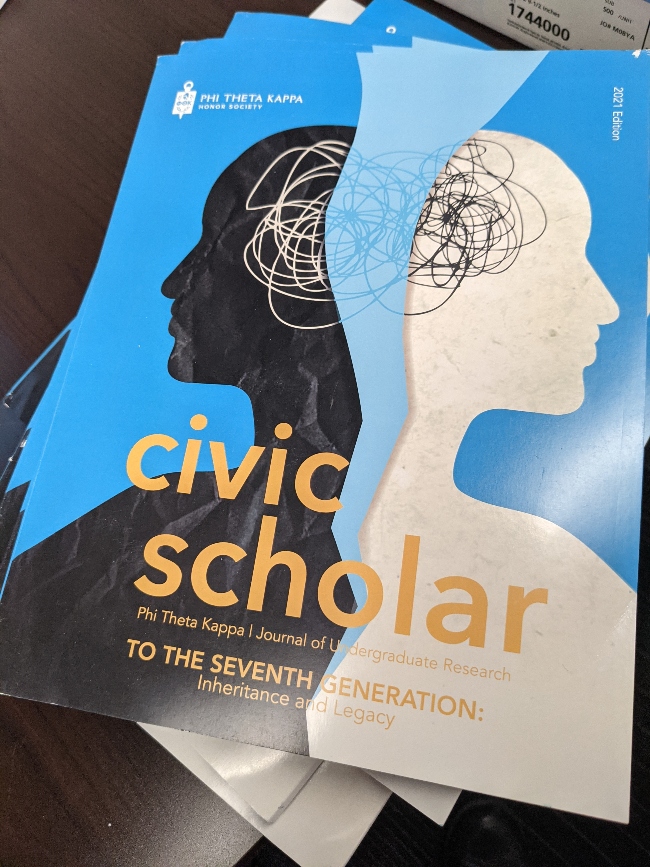 Omega Sigma, HCC's Chapter of Phi Theta Kappa, the international two-year college Honor Society, had their annual Honors in Action project published in The Civic Scholar, PTK's international journal of undergraduate research.
The journal publishes the annual PTK HIA Projects that were determined to be the best such projects submitted in the Academic year (the current publication is for AY 2020/2021). HCC's chapter was one of only 18 chapters in the world to be selected for this honor this year. PTK has nearly 1,300 chapters throughout the world, placing it among the largest standing academic honor societies in the world. At a conservative estimate of 1,275, this means only 1.4 percent of all chapters had their Honors in Action project published this year.
Copies of the physical journal were received by chapter advisor Dr. Nicolas Rangel (Director of the Honors College at Central Campus) this week. In addition to Dr. Rangel, Dr. Nichole Boutte-Heiniluoma (Chair of Sociology) and Dr. Gisela Ables (Faculty in History and one of the most honored PTK advisors in the state of Texas) also serve as advisors.
All students currently enrolled at HCC who have completed at least 12 cumulative hours and have a GPA of 3.5+ are eligible to join PTK.
For more information about PTK at HCC, please contact Dr. Rangel (nicolas.rangel@hccs.edu)
More information about the journal and a pdf version of the publication are accessible at
https://www.ptk.org/benefits/honors-program/civic-scholar-journal/
« Previous Article
Next Article »
---