HCC MDBA participant Ed Ryland receives national honor
Sep 29, 2021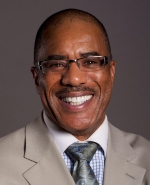 Ed Ryland Jr., an active participant in the Houston Minority Business Development Agency (MBDA) Business Center at Houston Community College (HCC), has been named recipient of the Ronald H. Brown Leadership Award. The award was announced this month at a U.S. Department of Commerce Minority Enterprise Development conference in Washington D.C.
Ryland, a local real estate agency owner, is also a graduate of the Goldman Sachs 10,000 Small Business program at HCC. He lectures on real estate and business topics and runs his own agency.
The Brown Leadership Award recognizes individuals who achieve significant results by promoting diversity, expanding minority business enterprise and demonstrating exceptional leadership.
"I am extremely honored to be receiving this award because of its significance in expanding opportunities for the minority business community," Ryland said. "My goal is to continue to focus on and tackle the many issues impacting minority entrepreneurs."
The goal of the Houston Minority Business Development Agency Business Center is to foster growth and competitiveness among minority-owned U.S. businesses. It provides works in areas like referrals, consulting and contract proposal preparation. It also matches businesses with potential contracts and sources of capital.
HCC has administered the MBDA program since 2013, helping more than 413 minority businesses and assisted in the creation more than 1,300 jobs. More information on the MBDA program is available at hccs.edu/mbda
« Previous Article
Next Article »
---